Beatrice R.D. Hair, BA, MA. ED
Executive Director

Beatrice R.D. Hair has dedicated her life to advocating for children. She is the owner of the Salisbury Tutoring Academy, the One-on-One School (STA), which is a franchised tutoring academy for ages 4 to adult. She was the winner for the U.S Small Business Administration 2010 North Carolina Small Business Person of the Year. She has received the Congressional Recognition Award for her work. She was personally congratulated by the President of the United States at the White House in May, 2010.
STA helps top students acquire a competitive edge for scholarships, moderate level students become high achievers, and low students become high functioning students. She also provides all students one-on-one attention. "Every master needs a coach" Hair says.
Hair's academy specializes in SAT and other test preparation, Attention Deficit Disorders, boosting grades, learning disabilities, low readers, and enrichment. She also offers long-range educational tutoring programs designed to help students gain acceptance to their colleges of choice with scholarships. She is an educator for students, parents, teachers, and franchisees. She helps people achieve their own greatness.

Hair designed the programs for STA as well as the brick and mortar school. Hair's staff of 25 teachers uses her tools to execute each individualized tutoring design. The tools are explained in her book ADHD in the Classroom: A Powerful, Practical Solution. More than 1,000 students have experienced success with the structure and philosophy of this model. The book is endorsed by the North Carolina Association of Educators and Senator Elizabeth Dole.

Hair has published articles in the national forum and enjoys local acclaim due to her success rate with families. One of her articles, "ADHD: A Practical Approach to Success," has been published in several educational journals. In 1994, Hair was the recipient of the Children and Adults with Attention Deficit Disorder (CHADD) Award presented by the local school board for outstanding work with children with ADHD. She shares her insights into positive behavior modification by serving as a keynote speaker for teachers and parents.

Hair is a graduate of Wake Forest University (1987), where she earned a Bachelor of Arts in Education with a minor in Health and Sports Science. She has a Masters of Education in Curriculum and Instruction from the University of Phoenix (2004). She has over 28 years of education experience.



Is your child close to failing or struggling to make a passing grade? Why not raise the level of enthusiasm to boost those grades? We help your child understand the big picture to relate more personally to the concepts involved. For example, children make maps to help them learn geography. We have many strategies to build interest and gain a greater understanding of the material.


We practice answering EOG and SAT sample questions. We cover many different test taking techniques to increase the percentage of accuracy. We reduce anxiety and help children of all ages become more comfortable with test taking.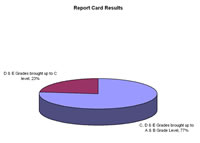 Chart of Report Card Results for children who were enrolled throughout the school year at the Salisbury Tutoring Academy LTD.



We evaluate and analyze how each child learns. Then we suggest alternative ways of studying that compliment the student's individual learning style. For instance, a child who is a visual learner is encouraged to draw pictures illustrating science terms in order to remember them better.



Overactive children, those who tend to daydream and those who are easily distracted all need our support to feel confidence and joy in their school experience. We suggest behavior modification contracts to help parents guide their child in positive ways. Our parents have found that The Salisbury Tutoring Academy is extremely successful in this area. All skills emphasized here at the academy are beneficial to ADD and ADHD children.



We use a variety of multi-sensory hands-on approaches to help students work around, and compensate for, specific learning disabilities.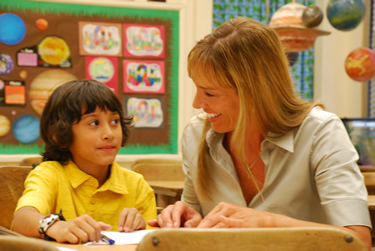 All sessions are documented and carefully
supervised by Mrs. Hair.



Our writing program helps children express their ideas clearly and concisely. We focus on all the skills evaluated by the NC Writing Tests: narration, description, clarification, etc. We help children learn how to write reports and term papers. They improve their mechanics and benefit from our multi-sensory hands-on program to produce better spellers. We enable children to become exciting writers.



Many children come to The Salisbury Tutoring Academy to improve their reading skills. We work on speed, accuracy, fluency, and comprehension. We teach decoding skills with a multi-sensory approach for all the sounds in the English language. We have hands-on exercises to help build a better vocabulary base. If a child reads at or above grade level, all subjects become more enjoyable. A program for parents to work closely with the development of their child's reading skills is also offered, with full guidance provided.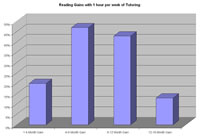 Graph of Reading Gains with 1 Hour per Week of Tutoring



The sky's the limit here! Is your child not challenged adequately in school? Does he or she need extra mental stimulation? Our enrichment activities at The Salisbury Tutoring Academy provide all this. We even assign exciting hands-on projects which can be done at home.



We specialize in helping your child compose a schedule and routine for after school hours. We provide organizers and calendars for long term projects and suggest practical ways to keep up with homework. We also organize subject matter into a logical format for increased learning.