Beatrice Hair has a BA in Education from Wake Forest University and an MAED in Curriculum and Instruction. She is the recipient of prestigious teaching awards.


We have a record of success!!! Just look at our statistics. We are a tutoring academy that offers a powerful combination of one-on-one instruction, excellent Harvard level curriculum, skilled awarded, trained licensed professionals all in a positive, beautiful learning environment.

One of our positive strengths is our statistics for success. For example, in reading, for every 4 months a student attends for one hour a week, our average gain is 10 months. We have unique methods that support each student's individual learning style. Due to the variety of our staff credentials, we are able to serve all ages.


ADD / ADHD
LEARNING DISABILITIES
ALL HIGH SCH0OL SUBJECTS
SAT PREPARATION
COMPUTER SKILLS CLASSES
HANDS-ON MATH
ENRICHMENT FOR GIFTED STUDENTS
There are approximately 30 certified teachers on our staff. Each of these teachers offers tutoring classes in their area of specialty. Our teachers are NC Licensed and have experience, masters degrees and are recipients of prestigious teaching awards. We also hired qualified personnel such as college professors, lateral entry teachers, degreed professionals, and student-teachers.

We specialize in Attention Deficit Disorders. Children with ADHD need organizational skills, modified study habits, great parent advocacy, and better speed and accuracy. We offer supportive behavior modification contracts that measure success weekly with lots of positive reinforcement.

We are very successful with Learning Disabilities. We believe in teaching by using a multisensory approach.

We specialize in many high school subjects such at Chemistry, Physics, Biology, etc. We also offer SAT preparation classes and computer skills classes.

We help children boost their grades, we give test taking tips, we offer better writing techniques and we teach organizational skills. We learn what children's learning styles are and show them how to set up their study habits to match their styles. We also serve many children that have very high intelligence and are already successful in gifted programs. We offer enrichment activities for these children. The sky is the limit here! We guide children through hands-on games and activities. Children in these programs receive wonderful challenging opportunities to learn and grow. Many of our students start out with us to get caught up and end up staying with us for many years to maintain straight A's.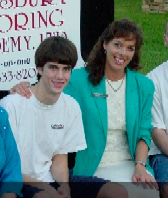 Micah Kearney's SAT went from a 1190 to a 1370. Due to this gain, he received a 4 year full tuition scholarship to Lenoir Rhyne. See the reference page for his testimonial.



The Executive Director, Beatrice Hair-MAED is a graduate of Wake Forest University where she received two degrees in Education and Health and Sports Science. She received her Master of Education in Curriculum and Instruction. She has numerous years of experience in teaching and tutoring. In l994 she was the recipient of the CHADD award for excellence with children with Attention Deficit Disorder. She also received an award for Excellence in Teaching from the Rowan-Salisbury School Board. She is gifted in helping children reach their potential. She has been honored to serve as a Keynote Speaker at national conventions for teachers

The Salisbury Tutoring Academy's curriculum specialist has a Masters Degree from Harvard in curriculum development. The programs we offer are some of the best offered in our country.

Our testing administrators test each child every 3 months to measure progress on national level testing. Our staff is comprised of qualified teachers. We interview numerous teachers before we hire one. Several of our teachers are "Sallie Mae Excellence in Teaching" recipients and many are "Teacher of the Year" recipients. Many of our teachers either have Masters Degrees or are currently working on their degrees. We are proud of our many very experienced teachers also. They have not only credentials for excellence, but also a love of children.



We are open for operation Mondays and Tuesdays from 5-8 PM. All students are tutored in 1 hour segments. Beatrice Hair, the Executive Director can be reached during the day and later in the evening by calling 704-633-8207. The Salisbury Tutoring Academy's fax number is 633-8206. Our e-mail is staltd@vnet.net



We are located right near the intersection of I-85 and Julian Rd. We are very close to Jake Alexander Blvd, which is in the center of Salisbury. We are 20 minutes from downtown Concord, 40 minutes from the northern part of Charlotte, and 30 minutes from Lexington. We are on Corporate Circle which is near the Rowan Family Physicians.


Take Exit 74 from I-85. Go toward Salisbury. Take your very first right into the Julian Road Industrial Park. We are the second business on the right.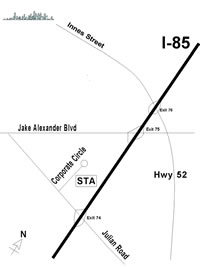 Click on the image above for a map to Salisbury Tutoring Academy.



The best way to reach the Salisbury Tutoring Academy, Ltd is to call the director, Mrs. Hair at 704-633-8207.

The next step is a 15 minute free phone consultation. This gives us both a chance to talk, and it provides us an opportunity to see if we have a match between our services and your needs. If you do decide to book our initial consultation, this is $200.00 with enrollment. Once a spot is secured for you and your family, the tuition is non-refundable. This is because we set aside two hours of our time to test and design a program for you. A consultation without enrollment is $400.00.

The $200.00 will reserve two hours of our time. Your child will be tested and then we meet for approximately one and a half hours. We never charge again for regular reevaluations. During this meeting we will relate all of your child's test results to nationally normed tests. We will together design the game plan for your child. We will carefully outline everyone's responsibilities; you will be shown our past statistics for success, the philosophy behind our program, and financial payment plan options for tuition. This is a very important meeting and all parties raising the child are encouraged to attend. You will have parent education videos available to you as well.



The cost of our tutoring is $55.00 per hour when paying in full and $60.00 per hour if paying with bank draft. We serve most of our students with one hour per week, however when needed, students are enrolled for more than one hour. When you enroll, you will need to pay the whole tuition upfront. If you choose the monthly bank draft method, it will be $60.00 per hour and you will need to submit a credit report and three credit references. You will also pay the last semester upfront. All these option will be presented to you during your initial visit.